Get Inspired: How to get into Coaching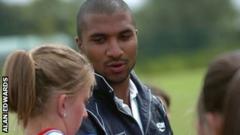 You may think that coaches help people of different ages and abilities to develop and improve in sport and physical activity, but actually they do much more.
As defined by Sport England's Coaching Plan for England, coaching 'improves a person's experience of sport and physical activity by providing specialised support and guidance aligned to their individual needs and aspirations.'
Fast Answers
Why get into coaching?
It's a great way to be involved in sport and make a positive impact on people's enjoyment, confidence, health and well-being.
Who is it for?
Anyone! All you need is a passion for a particular sport and willingness to devote time to helping others.
Is there a cheap option?
Many sports coaches are volunteers - the only cost to you is your time.
What if I want a proper workout?
Coaching can be as physically active as you choose. However much you want to join in with the action is up to you!
Can I take it to another level?
Even the world's best sports coaches start small and work their way to the top. Who knows where coaching could take you?
Is there a disability option?
Disability sports need dedicated coaches, too. If it's where you passion lies - get involved!
Is there a family option?
Why not lend a hand at your son's or daughter's sports club? It's a great way to spend time together.
So how do I take part?
Get in touch with your local county sports partnership or council or follow our links below.
In short, coaching is all about people. Great coaching encourages people to be more active, more often. It also brings wide-ranging benefits to participants and the communities in which they live, positively effecting physical and mental well-being, as well as individual, social and economic development.
There are around 3.6million people in the UK coaching sport or physical activity and many of these are coaching without using the title of coach. They are known to their participants as activators, instructors, leaders, teachers or trainers. But no matter what the label, the end result is always the same - by providing great coaching, they are inspiring others and making a difference.
There are many different reasons to become a coach, and the good news is that you don't have to have had a sports background to start. Many people get into coaching as a way of giving back to their community.
Why is it good for you?
Coaching is a great way to express your passion and be actively involved. It will also help you to keep active.
There are many ways in which to get involved, such as assisting at your local park run, instructing a dance class, helping your local club or getting involved in your children's sporting activities.
It's social, it's helpful and most importantly, it's fun.